Quick Fix Fridge Repair
Refrigerators are a necessary appliance for any home and because of this, we understand that at some point it will need to be repaired or have a part replaced. Getting reliable fridge repair should be fast, easy and not cost too much. Quick Fix Fridge Repair service technicians are experienced and can help you fix any fridge repair issues at your home or business.
We are here to answer any questions you may have about repairing your refrigerator. We have the experience and knowledge to diagnose the issue and fix is so that your fridge can run like new. Not sure what the issue is? No problem! We can come out and let you know what the issue is as well as what the costs will be prior to work beginning. If your refrigerator or freezer isn't blowing cold air, the freezer compartment isn't getting cool, temperature control isn't working or you are experiencing any other common problems, give us a call at (866) 973-1910 and we will send out a repair technician in as soon as possible.
We Can Fix All Types of Fridges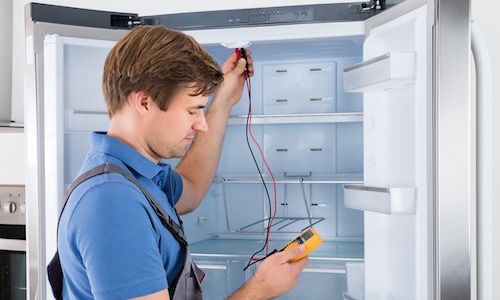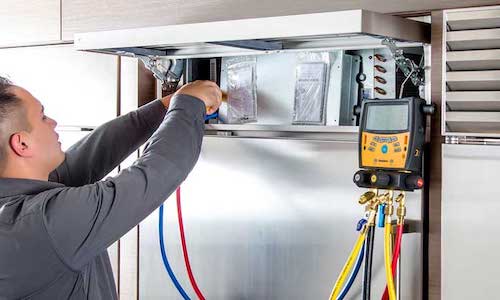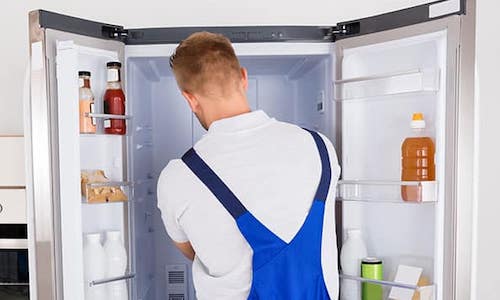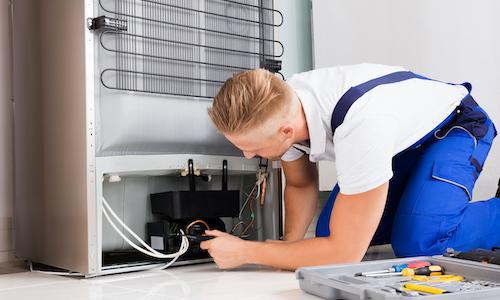 Call Now for Quick Fridge Repair
(866) 973-1910
What Does Fridge Repair Cost?
As a homeowner or landlord, you will at some point need to pay a fridge repairman when it breaks down or stops cooling. Average cost of fridge repair is $240 which includes labor and parts. A simple repair can be as low as $45 and an intricate repair that involves multiple part replacement can be upwards of $1,200 or higher depending on the brand of your fridge.
Below are some example costs of certain fridge repairs although prices can vary. Speak with your Quick Fix Fridge Repair professional before they begin work.
House call to determine issue: up to $75
Compressor repair/replacement: $45-150 / $220-500
Refrigerant leak repair: $150-$250
Thermostat repair: $75-$500
Door seal repair: $40-$300
Door dent repair: $74-$300
Freezer repair: $100-$700, average cost about $400
Ice Maker repair/replacement: $50-$150 / $250-350
Defrosting motor: $100-$200
Control board repair: $150-$700
Types of Refrigerators We Service
Whether you have a basic standard refrigerator or have one that is a luxury brand and model, we can help! We have experience handling all types of models including the following:
French door refrigerator repair
Side by side refrigerator repair
Refrigerator with a bottom freezer
Refrigerator with a top freezer
Refrigerator with no freezer
Built-in or counter depth refrigerators
Refrigerator Brands We Have Worked On
There are a lot of different brands of refrigerators on the market, some being more commonly purchase than others. We can fix all types including residential and commercial refrigerators such as:
Amana
Bosch
Electrolux
Frigidaire
Jenn-Air
Electrolux Refrigerator repair
GE Refrigerator repair
Kenmore Refrigerator repair
KitchenAid Refrigerator repair
LG Refrigerator repair
Maytag Refrigerator repair
Whirlpool Refrigerators repair
Commercial Refrigerator Repair: Avantco, Centaur, BeverageAir, True, Traulsen and Migali to name a few.
How To Hire The Best Fridge Repairman?
While it might seem cheaper to try to figure out an issue and replace parts yourself, you might be doing end up paying extra if your DIY repair does not work out in the end. Hiring the best fridge repairman means you get quality service and the job gets done the first time around.
When looking to hire a fridge repairman, keep a few things in mind:
Are they certified? Because refrigerators utilize refrigerants such as Freon, they may required a certified technician to handle the issue. Your best bet is to ensure the fridge technician is certified so that they can repair your refrigerator without needing to hire someone else.
Did you get referred to them? Finding someone who has lots of reviews is key. Multiple bad reviews could be a red flag and using someone others have been dissatisfied with could end up costing you more in the long run. Your best bet is to find a repairman that a friend or family member has used before so you can ask them about he quality of work.
Does their price seem too low? While it might be tempting to go with the lowest priced quote, you could end up spending money on someone who isn't qualified. Someone who doesn't have a lot of experience may provide you with a low-ball offer and then not even fix the fridge issue. The best bet is to obtain a few offers to see if there is an average cost for the diagnosis and fridge repair.
Need to Repair a Refrigerator? Call Now:
(866) 973-1910
FAQS
1. What are some common parts that get replaced?
While every fridge is different, we do often see certain parts that are replaced more than others. These include: solenoids, valves, door seals, water filters, light bulbs and ice maker components.
2. What are some common issues that can be repaired?
Most commonly, we get called to homes or businesses because a refrigerator is not cooling properly or because a compressor has given out. Another common issue is the water line or ice maker not working properly. These can be an easy fix, so if it happens to you do not worry! We can help.
3. Do you offer 24-hour or emergency fridge repair?
Yes, we can provide an emergency house call depending on the issue. Please note, any company that provides 24/7 repair or emergency refrigerator repair will likely tack on an added fee for the convenience of having your refrigerator repaired outside of business hours.
4. Will you repair a commercial refrigerator?
Yes, absolutely! Due to the nature of commercial use, these heavy duty fridges should be serviced immediately. If you suspect that an issue is occurring, it is recommended you place a service call right away before the issue gets worse.
5. Should I just replace my refrigerator if it is old?
Not necessarily. A fridge repairman can easily replace parts and ensure your fridge is working like new. The cost of a brand new fridge can be quite high compared to repair costs, so you should weight the pros and cons before making a large purchase.
6. How long can I expect my refrigerator to last?
The life expectancy of a fridge can be anywhere from 10-15 years however with proper care, a well cared for fridge can last up to 25 years. Some lower priced brands, however, do not perform as well and can tend to give out before the 10 year mark.